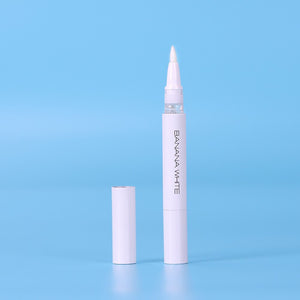 The banana white pen has up to 10 applications. Twist the bottom of the whitening pen and the gel will flow to the brush and apply to teeth. Avoid gums. 
-Leave gel on teeth for 5 mins. Results are visible after 3-5 uses and may vary. To achieve and maintain best results continued use is necessary. 
Ingredients: 
Carbamide peroxide, Glycerol, Propylene Glycol, Deionized water, Carbomer, Carboxymethyl, Poly vinylpyrrolidone, Sodium Hydroxide, Menthol. 
*Do not use if your pregnant or breastfeeding.